You are here
Athi', Physics Education Department Student of UNY Wins 1st Place in the National Scientific Poster Competition at the XXVI UNP Chemistry Science Week
Primary tabs
Submitted by

admin

on Mon, 2021-02-22 12:55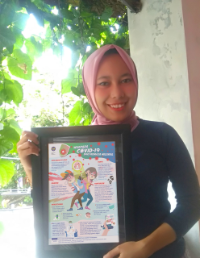 Athi' Nur Auliati Rahmah (Physics Education 2018) continues to gain achievements. Finally, Athi' won 1st place in the National Scientific Poster Competition at the XXVI Chemical Science Week (PIK) at Universitas Negeri Padang (UNP). This competition raises the central theme: Millennial Generation Innovation in Facing the Pandemic.
The winners of this scientific poster competition were announced online on February 13, 2021. This scientific poster work with the title "COVID-19 Alert for Millennial Teenagers" was able to compete with finalist works from several universities, such as the Indonesian Institute of Arts Surakarta, IPB University, Lampung University, Andalas University, and Palangkaraya University.
In this scientific poster, Athi provides visualization and essential information about the facts, impacts, challenges, and prevention of COVID-19.
Hopefully, this achievement can motivate other students to develop their talents and interests in creating educational media to educate and raise public awareness in the pandemic era. Viva UNY!