You are here
Students of Physics Education Department Become A Speaker of Teaching Campus Program at ITS
Primary tabs
Submitted by

admin

on Mon, 2021-07-12 11:30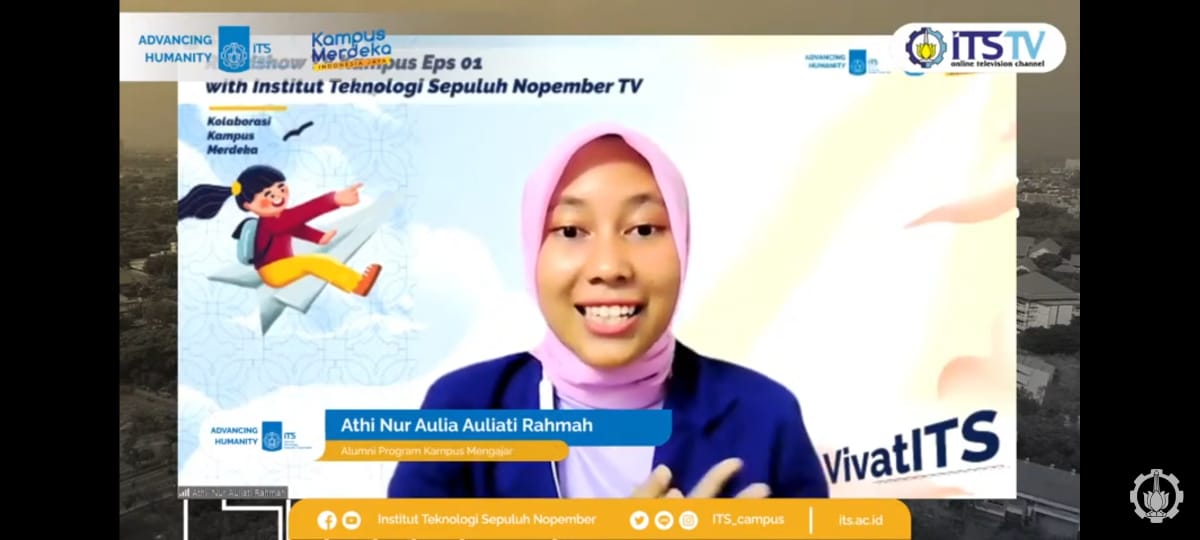 Athi' Nur Auliati Rahmah, a Physics Education student at the Faculty of Mathematics and Natural Sciences, UNY, is an Alumni of the Teaching Campus Program Batch 1 of 2021 which is a series of Independent Learning Programs organized by the Indonesian Ministry of Education and Culture. Success in carrying out his service in remote areas of Madura, he was again invited to be a guest speaker at the Merdeka Campus Roadshow Episode 1 with the Sepuluh Nopember Institute of Technology ITS Surabaya on Friday, July 9, 2021 online.
The talk show was also attended by Prof. Nizam, the Directorate General of Higher Education, and several heads of the Merdeka Campus sub-working group, such as Mr. Wagiran, the Teaching Campus Sub-working group. Even though he was withdrawn from where Athi' served, he was still enthusiastic about sharing his experiences while teaching at SDN Guluk-Guluk II, Guluk-Guluk District, Sumenep Regency, Madura, East Java. For example, helping the utilization of school experiment kits that have been abandoned for a long time, are dusty, scattered, and tend to lack value by making interesting physics experiments, such as fire-resistant balloons, acid-base using litmus paper, sound resonance, volcanic eruptions using baking soda and vinegar, observing magnetic lines of force using iron filings, making nails into magnets, and magnetic induction according to Faraday's law. These activities are in accordance with their primary duties as a Physics Education student.
Previously, Athi' had also been invited to be a guest speaker at the Merdeka Campus Festival: Launching Campus Teaching Class 2. He admitted that he was happy to be able to share his experiences with the general public for the second time.
"Alhamdulillah, it's a new history for me to be able to talk shows with Prof. Nizam Ditjen Dikti, be a guest speaker for the Merdeka Campus program, become a model for the Campus Teaching program video campaign with local content, and still exist even though I'm retired," said Athi'.
At the end, Athi hopes the story can spread more widely, with more impact, so that it can move friends to improve the quality of themselves and the nation.
#KampusMengajar2