You are here
Student of Department of Physics Education Wins Bronze Starfish Award at IOAF 2020
Primary tabs
Submitted by

admin

on Sat, 2020-12-26 10:35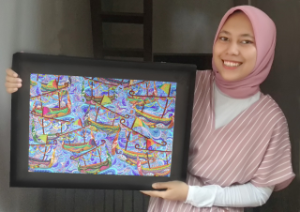 Athi' Nur Auliati Rahmah succeeded in receiving the Bronze Starfish Award at the 2020 IOAF International Ocean Arts Festival organized by the Asian Federation of Arts, Culture and Science AsianACS. IOAF itself is an annual exhibition that has been held by AsianACS since 2018.
Before receiving this award, he became a selected artist (international student category). His work was exhibited live at the Culture and Arts Center, Jeju, South Korea, on 15-20 August 2020, along with 104 other selected international artists.
This international exhibition has the theme: Life - Ocean - National Culture. Therefore, Athi' created a work entitled Sampan, which illustrates a typical Madurese boat and its marine biodiversity supported by authentic ornaments and colors on the salt island. These illustrations successfully impressed seven international curators consisting of several professors, assistant professors, lecturers, and artists from China, South Korea, Austria, Romania, and Italy.
We hope this achievement can encourage other students in various international multidisciplinary events. Viva UNY!