You are here
MAHASISWA UNY IKUTI ON-MIPA PT
Primary tabs
Submitted by

admin

on Tue, 2012-05-29 00:00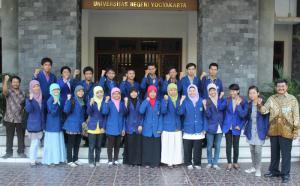 In the 2012 National Olympiad for Mathematics and Natural Sciences (ON-MIPA PT) which was held Saturday (12/5) to Wednesday (16/5) in Surabaya, FMIPA UNY students again made achievements. Two students from the Department of Biology Education, Nurdiyah Ika Hidayati, won a bronze medal and Tri Utami won an Honorable Mention.
When confirmed, Tuesday (29/5) Nurdiyah said that more than 190 students from 46 universities throughout Indonesia took part in the selection in the form of essay written exams for all fields.
"The questions tested are indeed difficult, but I am grateful that I won a bronze medal, and this is my first participation in ON-MIPA PT," continued the student who was born in Bantul, Yogyakarta.
In line with Diyah, Tri Utami said that the questions to be answered were quite difficult and this year was his second participation. Last year Tri Utami also won an Honorable Mention.
"This year actually three people from UNY who advanced to the third stage of selection, but one person, namely Elisabeth Pratidhina Founda N from the Department of Physics Education could not take part in the selection because they were participating in the JENESYS youth exchange, the Japanese Embassy," added Utami (witono) .