You are here
FMIPA UNY PASSED 52 PEOPLE OF KKT PROGRAM
Primary tabs
Submitted by

admin

on Mon, 2012-08-13 00:00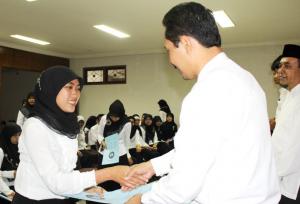 A total of 52 people successfully passed the Additional Authority Program (KKT) at FMIPA UNY. The graduation letter was submitted by the Deputy Dean I of FMIPA UNY, Dr. Suyanta at FMIPA, yesterday.
In his remarks, Suyanta said, for participants who have passed, they are entitled to additional authority.
KKT is a program designed by the government (Depdikbud) by evaluating that an educational program is needed, termed a bachelor with additional authority. This program is based on evaluation results in the field, namely there are still certified teachers but teaching hours are still less than 24 hours. So that the teacher does not get the certification allowance because he wants to teach but the class is lacking. Teachers whose teaching hours are less should be able to teach other fields with less number of teachers.
"In addition, teachers in the field actually teach other fields, for example, Physics teachers teach Chemistry or others. Even in one area in Indonesia in one district there is only one chemistry teacher, so the subject is taught by teachers in other fields of study.
The hope is that graduates can meet the expectations of the government. In areas that really need teachers, especially in the frontier, outermost and underdeveloped areas. Later, when teaching, it is attempted to teach, which is in accordance with the field of science first, and the additional authority is used only when it is urgent. (witono)